Landgas Thermodirekt  has developed a method in which the combination of a EU-wide patent pending gas generating unit for generating a combustible gas with a drum dryer. Sludge from sewage treatment plants is first dried and then by means of a thermo-chemical treatment (pyrolysis, oxidation, reduction) transformed into gas and phosphorus-containing ash.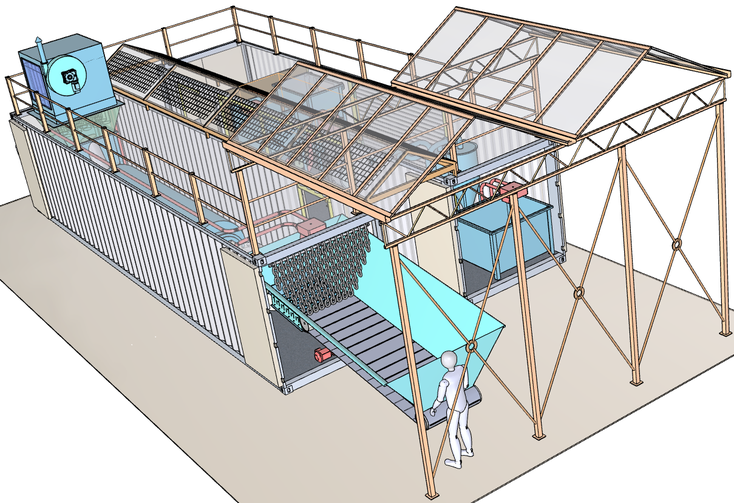 The method is suitable for gentle to use large amounts of sewage sludge that are no longer underlined or only under more stringent conditions applied to land and only can not or will conditionally utilized in co-incineration plants, decentralized, economically efficient and environment and natural resources ,
By using the method of Landgas Thermodirekt on municipal wastewater treatment plants, a substantial contribution to be made to achieve the ambitious climate protection targets. The focus is on the possible by the process saving potential in the emission of greenhouse gases.
The system consists of two independent units, which are combined together to an overall unit:
Aggregate 1: tumble dryer (TT 50 or 100, depending on the quantity and power requirement)
Unit 2: gas generation unit (GE 50 or 100, depending on the quantity and power requirement)
The interpretation is based on the amount of emergence of a municipal wastewater treatment plant, which for a sewage treatment plant of the order 50,000 pe (population equivalent) is "50".
The respective prefabricated in a container and after formation, ready for use within 2 to 3 weeks aggregates are mechanically and programmatically with each other in the desired location. The system can be modularly combined and extended.
The system of Landgas Thermodirekt is mainly suitable and have been designed to meet the requirements of an economical and resource-saving recycling of sludge from municipal wastewater treatment plants.
As a possible extension component in the context of a complete system for wastewater treatment plants a plant for dewatering and squeezing the liquid sewage sludge can be integrated. Activities in this direction depend on the particular project and at any time.
There have been obtained with different input materials already successful drying and gas production results. It was experiences on a plant with a very high and above all practice-relevant statement value.
Sewage sludge contains a number of pollutants that aggravate disposal sometimes. These include, for example, Small particles of plastic, pharmaceutical residues, hormones, disinfectants and detergents. The effects of these pollutants on health and the environment are discussed increasingly critical in the public and political level. This has led in recent years to a significant tightening of the requirements for the use of sewage sludge. Not least for these reasons, the sewage sludge application will be in the future on agricultural land only to a limited extent possible.
but also sewage sludge also contains a number of nutrients such as phosphorus, nitrogen and potassium, which have excellent fertilizing properties and can be used in agriculture.
Previously, it was possible to apply defined quantities of untreated sewage sludge on farmland. this will be allowed in the future no longer or only with significant restrictions by impending tightening of relevant laws and regulations.
An alternative form of treatment is incineration. is disposed of thermal sewage sludge, for example as an additive in cement and coal power plants or in mono sludge incineration plants. It is assumed that the co-incineration in the future, and then only at higher rates to be only conditionally possible because some of the previously used power plants are no longer classified as a baseload power stations.
Since sewage sludge is an important secondary source of phosphorus and this should be the future increasingly used for fertilization measures, in parallel with the decline in soil-related use of sewage sludge, the necessary measures to recover the phosphorus contained in sewage sludge and possibly other nutrients need to be strengthened. For this purpose come in addition to direct nutrient recovery from wastewater or sludge in particular those thermal processes in question, in which the use of the combustion ash is ensured as fertilizer. This is exactly what is achieved by the use of the process of land gas direct thermal. At the same time the sludge volumes are significantly reduced in the process, thereby significant CO2 savings are made possible.
In order to achieve an economical and comprehensive utilization of sewage sludge, multiple locations with decentralized sewage sludge utilization systems are useful. The country gas direct thermal system has a nationwide Ausstrahlwirkung with a comprehensive visibility because it can be used almost anywhere. The large number of medium-sized wastewater treatment plants a high replicability of the method is given, which can act both locally and nationally.
In a plant, sludge can be recycled by several treatment plants. For cost reasons, and taking into account health, environmental and climate protection aspects a plant at a treatment plant should be operated with an already relatively high biosolids. Through an appropriate logistics concept several smaller and medium-sized wastewater treatment plants can be integrated in the local environment. The country gas direct thermal system is particularly suitable where can be dried in small and medium sites the sludge of several wastewater treatment plants and then recovered by means of chemical-thermal monocombustion decentralized.
In the decentralized sewage sludge utilization of Landgas Thermodirekt is an innovative and economical solution for sewage sludge utilization. In this method, the expressed sewage sludge is dried in the tumble dryer (TT 50). This material is converted to the gas generator unit (GE 50) into synthesis gas, which as a byproduct ash is produced.
The synthesis gas again serves as an energy source for the drying of the sludge in the tumble dryer. The figure below shows the schematic integration of drying and gas production units to a sewage treatment plant.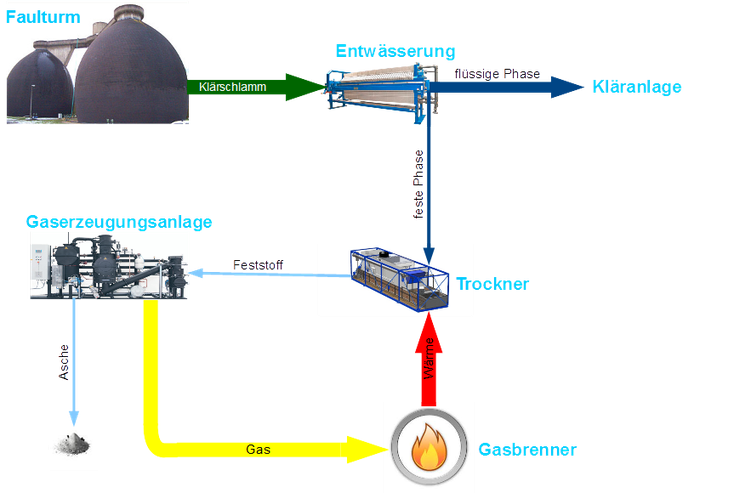 The by-product obtained after the gas generatiing unit is phosphorus-containing ash, which may be due to the limited availability and the significant price increase potential economically processed in phosphorus and used in agriculture. Within the scope of this recovery, the energy-intensive production of phosphate fertilizers can be reduced.
After dewatering the sludge from the digester by pressing or thickening to approximately 20-25% dry matter content this is the drum dryer supplied (Fig. 2). In the dryer, the sewage sludge is dried to a residual moisture content of about 10%.
Then the solid is continuously supplied to the gas generating unit GE 50th The special construction and the continuous rotary motion of the gas generation unit, the supplied material is optimally crushed, mixed and transported through a plurality of chambers at a uniform temperature distribution. The material runs through several pyrolysis stages at different temperatures.
The gas mixture, which is produced in the reactor by the chemical conversion of organic substances, is filtered off with suction by means of blowers. The gas mixture passes several cyclone filter. In this case the ash is absorbed from the gas stream in the ash discharge.
In a multi-fuel burner in front of the drum dryer, the purified gas is converted into thermal energy and fed into the drying process. Thus a maximum heat recovery and drying performance. This method enables the optimum energy yield or use of sewage sludge a closed energy cycle, providing a sustainable and economic solution, since no fossil fuels partially or completely.
The drum dryer and the gas generating unit are modular and container housed, respectively in a 40 feet container. Delivery, construction, installation and commissioning can be completed within 2 to 3 weeks at the prepared site.
The drum dryer is usually equipped with a large-volume fume scrubbers, which is mounted either on or near the container.
Task of the drum dryer TT 50 is to dry the pressed-off sludge to approximately 90 to 95% dry matter content
The dryer works on the reflux or recirculation. Aliquots of the dried sludge at about 90% dry matter content can be mixed with fresh, pressed-sludge with a dry matter content of about 20 to 25%, to produce a mixture of materials with a moisture level not exceeding 50%
Dimensions: 40 feet container, suitable for outdoor installation
Exhaust filter system (throughput: 5,000 m³ / h, enriched with water vapor)
Temperatures in dryer:

Burner: 1,200 ° C
Drying chamber: 500 ° C (input), 100 ° C (output)

Power:

Calculated Mileage: 6500-6750 hours per year (costing approach: 6,700 hours per year)
Drying performance (increae of dry matter content by evaporation of water):
About 380 kg of the starting amount of sludge with a 25% dry matter content / hr., corresponds to a mileage of an amount of about 2,600 tons of sewage sludge with a 25% dry matter content / year

External energy input (depending on the energy content of the sludge):

about 1 kW are thermally necessary for the evaporation of 1 liter of water. The energy contained in sludge is usually enough for the autonomous operation of the dryer. For the rare case of an energy shortfall, tanks for wood pellets and liquid are present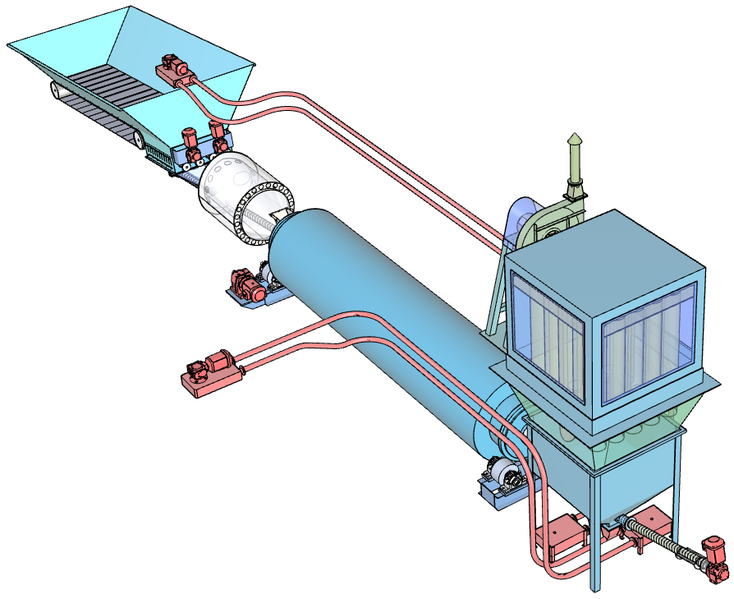 The object of the gas generating unit GE 50 is to produce gas and ash from sewage sludge
The GE 50 operates according to a multistep pyrolysis, thereby converting at high temperatures to a dry content of 90% dried sewage sludge in synthesis gas and ash. The ash produced is used as a phosphatic fertilizer and the synthesis gas is used as an energy source for the drum dryer TT 50
Dimensions: 40 feet container, suitable for outdoor installation
Thermal input: <500 kW
Maximum Operating Temperature: 1,300 ° C
Amount of ash approximately 1/3 of 500 to 600 tons / year = 200 tonnes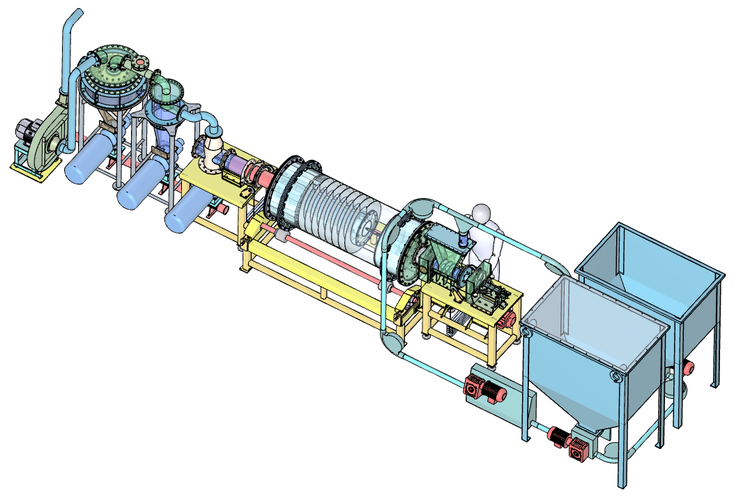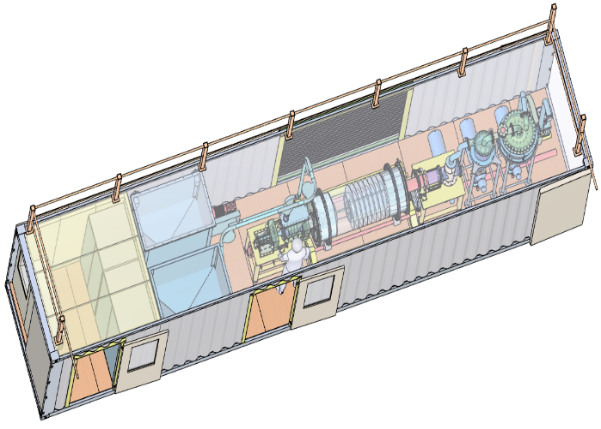 Task of the Landgas Thermodirekt system, consisting of drum dryer TT and gas generating unit GE, is the environmentally safe, friendly and economical use of resources from production of biosolids of a municipal sewage plant.
Dimensions: 2 x 40ft containers that are longitudinally mounted side by side in parallel and connected by a covered aisle between the two containers.